STONERIDGE ROTTWEILERS
Home of Quality Working and Show Rottweilers
Welcome to the Home of Stoneridge Rottweilers!
We are located in the beautiful Matanuska-Susitna Valley in SouthCentral Alaska. My name is Cheri Hagen and I am a long-time Alaskan living here over 38 years, all in the SouthCentral area. I currently live with my husband, Brian and three wonderful Rottweilers; Gabi, who is 10, Knight who is a half-brother to Gabi and is 7 and Tyme who is a daughter of Gabi. Tyme is 3. We live on 10 acres where we have lots of room for the dogs to run and play. I am a COE Breeder belonging to the American Rottweiler Club, the Rottweiler Club of Alaska, and Cook Inlet Kennel Club. I am active in all three clubs serving as President of the RCA and Vice President of CIKC. I am also the Obedience Statistician for the American Rottweiler Club. In addition I am an AKC Breeder of Merit.
If you are interested in my upcoming litters, please go to that page where you will find a puppy questionnaire and information on the current planned litter.
If you are interested in training classes please go to that page for the info.
We are still building our house and, much like this website, have a ways to go in construction! I plan on adding lots of information on my dogs, both past and current over the next few months. For now, be patient, it will come!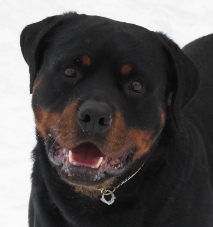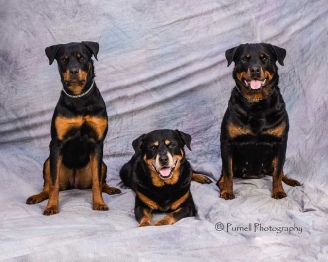 The girls in 2012 - L to R
Tyme, Xena and Gabi. We sadly lost Xena in March, 2014 at 13 years 2 months. Her presence in our home is deeply missed.